So the other big thing I've been seeing on all these blogs are these Linky Parties. Not quite sure what those are. My mission today is to figure them out. Stay posted...
*update
~I figured them out! I also found a great blog that explains them and what to do if you want to be a part of or start a Linky Party.
linky party tutorial
*update 2
~Joined my first linky party...it was so easy! Love my new blog button created by my colleague
Mrs. I
!!! Makes joining linky parties a lot easier. :)
Here is the linky party I joined...you should too!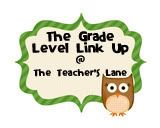 Pin It